Besides the usual things needed to be done during our rest days, the 2 days in Yogyakarta were actually meant to allow to visit and explore the famous temple sites of Borobudur and Prambanan. However I had to skip this program, as my first priority was to get my health situation under control and myself back in shape to be able to ride my bicycle on the next stages. Therefore I canceled the sightseeing program in favor to more rest and to gain new energy.
A short rickshaw ride together with Eric  into the busy center of Yogya was the only escape from my nice 'Rehab' Hotel for the past 4 days. Back into the city smog and noise!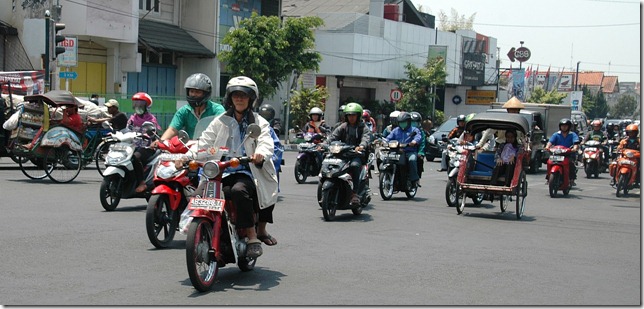 Although I lost some kg during my 'Gastro' phase, our driver had a hard(er) time to spin the wheels with me and my partner Eric, as Eric obviously overcompensated for my weight loss

– he is a real good eater

.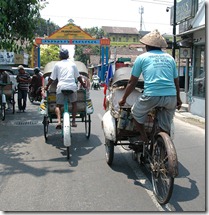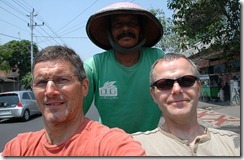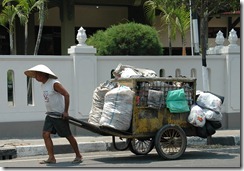 You would be amazed about the number of good sorted bicycle shops you can find in town. In one I found my dream bike; good for the rough conditions we face here. However I was in shock when I was told by the merchant, that I did no longer qualify to own such a vehicle as the name already suggests it is only for a very exclusive client group  …