A healthy start into the 3rd day after my 'breakdown' with a healthy breakfast in 'Garden Eden' and a first sign of appetite. After 3 days without eating my stomach is as empty as my wallet after paying the hospital, taxi and doctor's bills and it cries for food.
Last night was an almost perfect night of sleep. Only a few short wakeups, no severe coughing, stomach still rumbling, but no liquid poop, no need for midnight laundry of pants and sheets!
Getting a faint sign of color back into my face and the beloved 'I am all fine smile'. Soon to meet the troop again who is supposed to arrive later this afternoon. I bet they will envy me for having had 2 extra days here instead of more climbs, dust and gravel.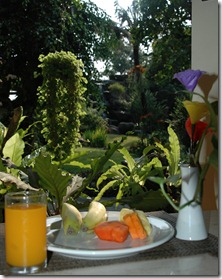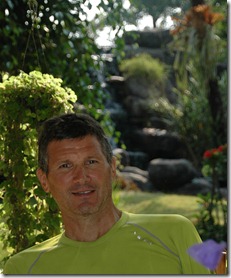 I already met Gerald again, whom I knew from a TdA rider unification meeting in Cape Town last year. He is joining the tour here for the final 3 months of our adventurous cycling expedition.